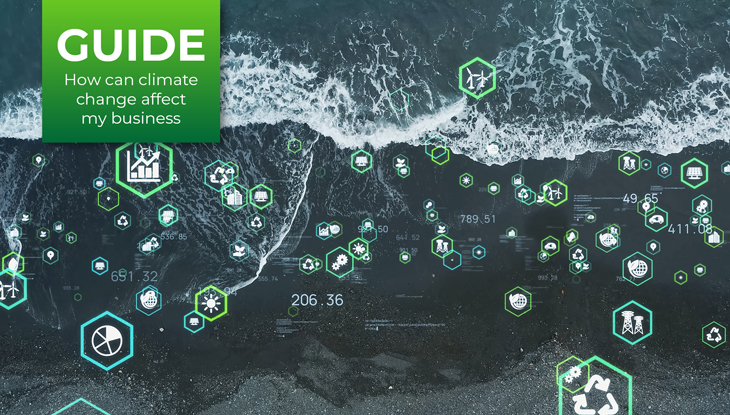 It's safe to say that climate change will affect us all.
Whilst we're lucky here in Britain to experience a relatively stable climate, that doesn't mean we'll be exempt from the impacts of a changing climate. Indeed, the average temperature in the UK has been  0.8°C warmer in the last decade versus the 1961–1990 average.
You may be thinking great! Warm weather, sunshine, summer heatwaves… but the scary truth is that climate change is so much more than just higher temperatures. It's also flooding, storms, wildfires, and cold snaps; the destructive and potentially life-threatening consequences of the changing climate, which will impact everyone, even businesses and business owners.
We Need to Act Now
Scientists generally agree that we need to reach net-zero emissions by 2050 to prevent global temperatures from increasing by more than 1.5 degrees (and well below 2 degrees). The UK Government has pledged to reach a national net-zero target by 2050. It's an ambitious goal, and if we're going to reach it, we all need to start making changes that reduce our greenhouse gas emissions and carbon footprint.
Yet the onus isn't solely on individuals to make lifestyle changes. Some of the biggest polluters are actually businesses. In order to save the planet, business owners and industry leaders also need to take action and start to operate more sustainably.
But Businesses May Put Short-Term Profit First
At the end of the day, most businesses will put their profits and growth first. And that means that issues like climate change and sustainability can be overlooked. This is especially true in a post-pandemic world, where many businesses are still overcoming economic disruption. Now, more than ever, businesses are focussing on short-term business issues or demands.
81% of business executives agree that businesses should put more effort into protecting their environment. Yet these good intentions are rarely translated into action: 65% of executives said their business needed to cut back on environmental sustainability initiatives thanks to the pandemic. But with only a few decades to prevent an environmental disaster, can businesses really afford to put sustainability on the backburner? After all, even businesses will be affected by climate change.
What Is Climate Change?
Before we get into the main discussion, it's helpful to outline what climate change actually is. A climate is the usual weather of an area, which can change depending on the season. The earth also has a climate, which is a combination of all the climates around the world.
Since 1880, the earth's temperature has increased by 1.1 Celsius. Whilst the earth's climate does change on its own, it's generally accepted that human activity (mainly burning fossil fuels) has caused the recent increase in temperature. This is causing the climate to change and things like:
Wildfires
Flooding
Droughts
Cold snaps
Heatwaves
Over the past couple of years, we've seen some of the devastating effects of climate change first-hand, such as wildfires in the US and Australia, extreme flooding in Germany, Belgium, and China and a deadly cold snap in Texas.
Unless we curb our emissions, global temperatures will continue to increase and extreme weather phenomena will become more frequent.
How Is Climate Change Affecting Britain?
Despite avoiding some of the worst climate disasters so far, the UK is still experiencing climate change. Let's take a closer look at how climate change is impacting the UK:
Flooding
The UK has been hit by flash floods 51 times since 2007, causing loss of life, property damage and displacement. Six of the ten wettest years on record have also occurred since 1998. According to The Environment Agency, around 5.2 million properties in England are at risk of flooding. Increased temperatures will only exacerbate the wet weather that leads to floods.
Heatwaves
In the UK, heatwaves above 30 degrees are considered extreme. A study found that heatwaves are killing more than 200 people a year in the UK, with extreme temperatures leaving elderly and vulnerable people at risk. Research also suggests that heat waves exacerbate air pollution in cities, which can lead to breathing problems, especially in children.
Wildfires
Higher temperatures cause drought conditions, drying out natural material and acting as kindling for fires. Whilst we may think that wildfires belong in the US, the UK has also experienced a worrying increase in wildfires in the past couple of years. From 2011 to 2017, there were a total of 100 fires across the UK. According to the European Forest Fire Information system, there were 137 fires in 2019 alone.
Higher Sea Levels
Given that Britain is an island, rising sea levels should be a concern to us all. When combined with coastal erosion, rising sea levels could threaten properties close to the coast, particularly in areas in Wales, Norfolk and Devon and Cornwall. Scientists predict that an average global temperature rise of 4 degrees could cause a nine-metre increase in sea levels. That's a worst-case scenario but should still be a worry to us all.
How Climate Change Could Impact Your Business
Scary stuff, right? Yet despite the warnings of scientists, businesses still aren't taking action to reduce their emissions. Yet businesses don't only have a moral obligation to act, they also have their own self-interest to consider.
Now that we've discussed how climate change is and could affect the country, let's take a closer look at how it could impact your business:
Extreme Weather could affect your business
Whether happening here or in another part of the world, extreme weather could affect your business. Depending on where your business is, your property or infrastructure could be at risk of flooding or storms, at best leaving you unable to open or at worst damaging your business and leaving you with costly or time-consuming repairs. Extreme weather could also stop your employees from working, whether that's preventing them from getting to your business or causing dangerous working conditions e.g., working outside during a heatwave.
Supply chain disruption may cause issues
No matter what type of business you run, disruption to supply chains caused by extreme weather could have an impact on your business and make it harder or more expensive for you to obtain certain goods. For example, severe drought/flooding could cause shortages of crops or materials, impacting your business's ability to produce or sell certain products, as well as driving up the cost of available resources.
Government regulation could catch you out
With the UK Government looking to reach a net-zero target by 2050, new regulations aimed at preventing pollution and reducing emissions could affect your business. For example, clean air zones in UK cities could see you paying to make deliveries, transport goods or carry out services. It's important that you stay up to date with these to avoid fines or unexpected costs. You may also want to investigate how you can avoid these charges i.e., by investing in an electric or hybrid vehicle.
Consumers may look for sustainable companies
Sustainability isn't just a flash in the pan; it's a movement that will continue to grow and develop. Consumers are concerned about the planet and this increasingly influences purchasing decisions. A study carried out by Futerra, found that 88% of consumers want brands to help them be more environmentally friendly and ethical in their daily lives. If your business isn't sustainable, you could soon find that consumer preference makes you extinct.
5 Ways Your Business Can Help Fight Against Climate Change
So, now you know what awaits the planet and your business if global warming and climate change continue, here are 5 ways that your business can join in the fight against climate change:
1.Switch to Renewable Energy
Switching to a renewable energy tariff is one of the best ways of reducing your carbon footprint and greenhouse gas emissions. When fossil fuels are burnt, they release planet-warming emissions into the atmosphere. Generating energy from wind or solar produces little to no carbon emissions, helping you to power your business with cleaner, greener energy. Whilst you'll still get the power from the national grid, you'll be supporting renewable energy providers with every bill you pay.
2.Set and Work Towards a Net-Zero Strategy
Whilst working to reduce your emissions will help to protect the planet, setting and meeting a net-zero target will mean that your business is contributing no net emissions into the atmosphere. At Tariff.com, we understand that taking your business net-zero isn't easy. That's why we've made it our mission to support businesses on their net-zero journey in 5 simple steps. Going net-zero isn't just good for the planet, it also encourages climate-conscious consumers to choose your business.
 3.Support Carbon Offset Projects
Whether you're on a net-zero journey or simply want to offset some of your emissions, supporting carbon offset projects can be a great way to help the planet. Carbon offset projects focus on removing existing CO2 from the atmosphere and can involve things such as carbon storage, reforestation and investing in renewable energy. At Tariff.com, we partner with vetted and reputable providers to supply carbon and biodiversity credits to our clients.
 4.Partner with Sustainable and Green Companies
For many businesses, a large proportion of their carbon footprint can come from their supply chain. If you're serious about achieving a true net-zero target, it's important to assess the environmental impact of your suppliers. Partnering with sustainable or responsible companies helps to reduce your carbon footprint and ensures your business is making a true difference within your industry.
 5.Reduce Energy Usage and Waste
Reducing and optimising your energy consumption isn't only good for the planet but also your bills. No matter what type of business you run, carrying out an energy audit across your business can help to identify energy drainers and wasteful practices. Making simple changes such as switching to LED bulbs or insulating your building can help to save energy and prevent waste.
Are you looking to do your bit for the planet?
If so, get in touch with Tariff.com today. Our team of energy and net-zero consultants can help your business reach its energy and environmental goals. Whether you're looking to switch suppliers, reach a net-zero target or optimise your energy usage, we're here to support you and your business.
At Tariff.com, we've made it our mission to help businesses make a positive change for the future. Whether you're looking to switch utility providers, optimise your energy usage or join the fight against climate change, our consultants are here to support you and your business.
If you're ready to act, plan and change, get in touch with the Tariff.com team today. Our friendly consultant can provide all the information and guidance you need to better manage your business utilities or take your business to net zero.

At Tariff, we've made a firm commitment to helping businesses from all sectors adjust their energy usage habits. We have extensive experience in securing businesses the best possible deal on their gas and electricity, as well as preparing them for the looming 2050 deadline for net-zero emissions.
Whether you're uncertain of your business' future in energy, or you're ready to make the move to a cleaner and brighter future, get in touch with our knowledgeable team today to find out how Tariff can help your business begin its green journey.