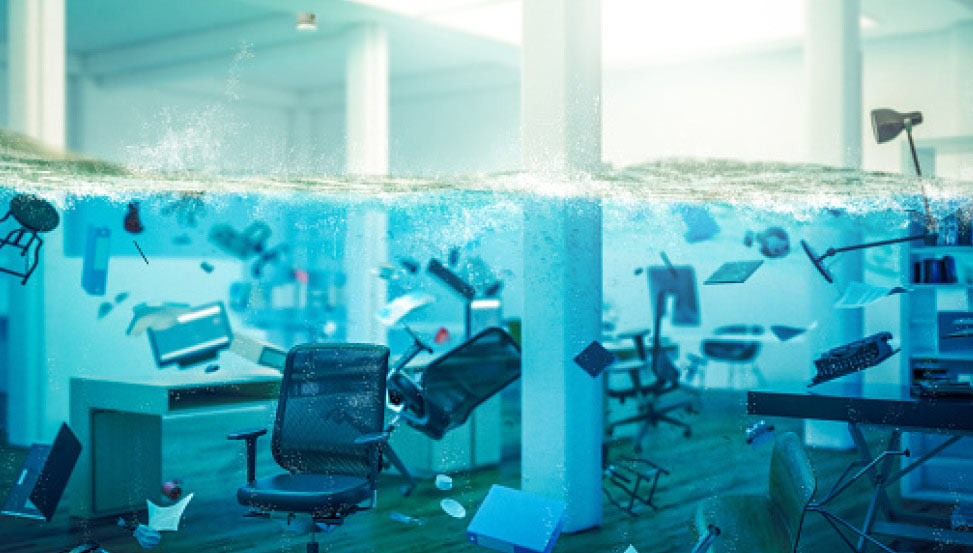 Paying utility bills is part and parcel of running a business; every business needs electricity, gas and water to operate.
But that doesn't mean you have to settle for paying inflated rates. No matter what type of business you run, you'll no doubt want to save money on your business utility bills.
Here at Tariff.com, we want to empower businesses of all sizes to take control of their bills. That's why we've pulled together this guide on how to change your water supplier and save money on your water bills. We'll be answering all your questions about switching supplier and the benefits it could bring to your business.
Am I Able to Switch My Business Water Supplier?
Yes, you can! In 2017, the water industry was deregulated for non-households such as businesses and organisations. That means that your business now has a choice of provider on the open water market. It also means you can change your business water suppliers if you want to.
The water industry consists of two parts: water wholesalers and water suppliers.
Water wholesalers are responsible for maintaining the water networks that supply clean water and remove wastewater from your business. Because of this, you won't be able to switch wholesalers.
Water suppliers buy water from the wholesalers and sell it to you, the customer. They're the ones that send out invoices, resolve faults, read meters, and provide customer service. A range of water suppliers is now available to businesses.
Who Can Switch Their Business Water Provider?
The new open water market only applies to certain non-household premises. Not everyone is eligible to switch water suppliers. You're able to switch if:
You are a business, charity, or public sector organisation.
Your premises is based in England or Scotland.
The water market in Wales is different than in England or Scotland and if your business is based in Wales, you probably won't be able to switch suppliers. In the Welsh water market, consumers only have a choice of water supplier if they use more than 50 million litres of water per year.
When do Water Rates Increase?
We all know that bills go up. But have you noticed that your water bills seem to increase around the same time each year? That's because business water rates go up every year in April. Prices generally increase to cover the cost of maintaining both the water and sewerage networks across the UK.  As the water market is deregulated, water suppliers are also able to set their own prices and rates as they please.
These annual price increases can be frustrating. No one likes having to pay more for the same service. So, if you find yourself unhappy with your new rates, you have the option to search the market for a cheaper price. Having the option to switch supplier is meant to make the market more competitive and better value to businesses like yours.
Can I save money on my water bills?
If April rolls around and your current supplier increases their rates, there is a way for you to save money on your water bills. By switching business water suppliers, you could reduce your water bills by 5-10%.
A large part of your water rates will come from the wholesale charges; this will be passed on to the consumer and will remain the same no matter which supplier you get your water from. The price difference between suppliers will therefore come from lower charges on:
Standing charge– a fixed cost you have to pay, no matter how much water you use.
Volumetric charge– the charge per cubic metre of water and wastewater you use.
Surface and highway drainage – a fixed cost for drainage on your premises.
The supplier itself will have control over these areas of your bill, which is why some water suppliers will be able to offer a lower price to your business. No matter what type or size of business you run, exploring the open water market could be an easy way of saving money on your bills.
How can I switch business water suppliers?
If you've decided you want to change supplier, here are some things you'll have to do to make the switch:
You now have a choice of water provider. You'll have to search the open market to find the best price and package for your business.
Once you've reviewed everything out there, it's time to pick the right water supplier for you, your business, and your water needs.  
Onboard with new supplier
Contact your chosen supplier and start the onboarding process. This step will probably involve some level of admin or paperwork.
Your new supplier might do this on your behalf but if not, you'll need to inform your current provider that you're moving your service.
As the final step, your old supplier will send out your last bill from them. You'll then have completed your switch.
If all that sounds like too much hassle but you still want your business to benefit from switching suppliers, you could engage a consultant like Tariff.com to do this on your behalf.
What suppliers do I have to choose from?
Now that the market has been de-regulated or opened, your business has a wider choice of water suppliers. In England, there are 21 licensed water suppliers and in Scotland, there are 20. Now the commercial water market is open to competition, the water market works just like any other utility market e.g., electricity and gas. With a range of suppliers to choose from, the retail providers will have to compete with one another to win customers and new business. In theory, this will result in increased benefits for customers.
Are there different types of contracts for my water supply?
There are two types of contracts that your business can choose from:
A fixed-term contract– where water rates are fixed for a specified period. Usually the more economical option for businesses.
A Deemed contract- When you have no fixed contract with your supplier and have to pay the default water rate that can increase each April.
I have multiple properties; can I switch all of them?
Yes. If you have multiple sites, you can switch all of your properties to the same supplier by doing a multi-site switch. This will consolidate all of your bills so they all appear on one invoice. This not only makes managing your bills easier but could generate substantial savings for your business.
What are the Benefits of Switching Water Suppliers?
Now you know how switching water suppliers works, you may be wondering how your business could benefit from making the switch. Here are the top benefits of switching water providers.
Save Money on your water bills
These days, your business needs to save money on its utility bills where it can. Now that you have a choice of service providers, you don't have to settle for high charges. By switching water providers, you could reduce your water bills by around 5-10%, helping your business reduce spending on its utilities.
If your current provider isn't giving you the service you need, you don't have to put up with it. Now that suppliers have to compete to win new customers, we should start to see water companies offer better customer service and extra perks to win over customers.
Get Better Value for Money
When you switch business water suppliers, you could benefit from more than just reduced bills. Water retailers will be looking to provide USPs to attract new customers, so your business could include things like water efficiency services.
If your business has multiple properties, switching them over to the same supplier could reduce confusion for you. Depending on your supplier, they could help you manage the administrative side by consolidating your bills.
Jargon Buster
There can be a lot of jargon in the water industry. This can make managing your bills and the switching process seem more complicated than it is. Here are some terms and acronyms explained:
Trade effluence- any liquid produced and a business and disposed of via the drain (but isn't domestic sewage).
Water wholesaler- A regional company that maintains the water and waste networks.
Ofwat- the Water Services Regulation Authority. The body responsible for the regulation of the privatised water and sewerage providers in England and Wales.
Potable Water– is the official name for drinking water.
ADC– stands for the Average Daily Consumption (m3) which is the amount of water you use each day.
DPI– stands for Discharge Point Identifiers. This is a unique number that identifies the discharge point services of each trade effluence on your business.
SPID– stands for Supply Point Identifier. This is a 10-digit code used to locate your water supply.
MSN– stands for Meter Serial Number.
Take Control of Business Water With Tariff.com
If you're looking to get the most out of your business water, get in touch with Tariff.com. We can offer a range of services to help you optimise your spending and water usage. Let's take a closer look at how Tariff.com can help your business.
Water Audit
Our consultants can conduct a water audit across your business. A water audit checks what you're being charged is accurate. This can help to spot any inaccuracies which are usually found on surface water charges, and wastewater charges. As well as highlight areas where you could save money by switching supplier.
Water Usage Service
The Tariff team can carry out a water use survey for your business or organisation to estimate your overall water usage. To do this, we'll analyse your bills, as well as ask you specific questions about your business and industry. Our team will then present a detailed report to you, alongside our recommendations to improve efficiency.
Market Comparison
Now the water market is open, your business has a choice of water provider. Yet it can be hard to know which is the best tariff for your business. Our team can search the market for you, comparing all the suppliers and tariffs available to find the best deal for your business.
Switching Support
If you do decide to switch suppliers, the Tariff team is here to support you. We aim to make the switching process as simple as possible. That's why we provide administrative support and can liaise with your current and future suppliers to move over your water service.
Bill and Usage Management
We understand that managing your business's water bills can be a hassle. This is especially true if you have multiple properties. At Tariff.com, we can support your business by monitoring your water use and help to manage your water and other utility bills.
Get in Touch With Tariff.com Today
If you're looking to switch your water supplier, get in touch with the Tariff team today. Whether you're looking to switch suppliers or optimise your water use, our friendly consultants are here to support you and your business.
At Tariff.com, we've made it our mission to help businesses make a positive change for the future. Whether you're looking to switch utility providers, optimise your energy usage or join the fight against climate change, our consultants are here to support you and your business.
If you're looking to switch water suppliers, get in touch with the Tariff.com team today. Our friendly team can provide the guidance you need to switch water suppliers and benefit from a better tariff.

At Tariff, we've made a firm commitment to helping businesses of all sizes and industries go net-zero ahead of the Government's 2050 target. As one of the UK's leading energy switch providers, we're in the ideal position to prepare your business for the future.
Whether you're uncertain of how net-zero policies will impact your business, or you're seeking a more affordable solution for your business' green energy needs, we'll provide a bespoke package that covers everything from finding the right provider, to organising all the paperwork, to finalising that switch over.
Get in touch today to find out more about how Tariff can help your business begin its green journey.