We live on an exceptionally diverse planet. From the depths of the Marianas Trench in the vast Pacific ocean, to the snow-capped reaches of the Himalayas, to the wild undergrowth of jungles and forests, no two corners of Earth are the same. It's this diversity that means our world is home to a huge range of flora and fauna.
However, with a changing climate comes drastic impact to habitats and homes, and more and more of the unique species on our planet are becoming at risk of extinction. As one of the frontrunners in preparing homes and businesses for an environmentally friendly future, Tariff understand the pressing need to change our ways for the benefit of everything that lives on Earth.
We'll take a look at some of the world's most endangered animals, the factors that have led to their critical status, and how you can make sustainable changes to your energy consumption to turn the tides of extinction.

Ten Of The Most Critically Endangered Animals In The World
With rapidly changing environments, and a world on the brink of a climatological catastrophe, an increasing number of species are being pushed to the edge of endangerment or extinction. Here are just 10 of Earth's most endangered animals.
10 . Saola – Critically Endangered
Considered to be one of the most impactful species discoveries of the 20th century, the elusive Saola was first discovered back in 1992, and was the first new mammal discovered in over 50 years. Native only to the Annamite Mountains in Vietnam and Laos, this antelope-esque creature is actually more closely related to cattle.
Also referred to as the Asian unicorn, Saola are characterised by two long, straight horns and distinctive facial markings that almost resemble zebra stripes. In fact, its name directly references those horns, meaning "spindle horns" when translated from Vietnamese.
Saola can only be seen in the wild, and their enigmatic nature means that they've only been properly documented by scientists on just four separate occasions. There's no Saola in captivity at all, and their diminutive stature (just 33 inches, or around 84cm) and earthy camouflage means they've proven to be a difficult animal to record.
This elusiveness means that we're actually unsure of how many Saola there truly are in the world. However, a combination of habitat destruction, poaching and illegal wildlife trade leads scientists to believe there could be as few as 50 of these left on the planet.
9. Hawksbill Turtle – Critically Endangered
Named after its sharp, hooked beak, the Hawksbill Sea Turtle is one of the most critically endangered sea creatures on our list. While it shares many similarities with other turtles, its pointed beak and serrated shell plates mean the Hawksbill has a distinctive aesthetic.
One of the more interesting aspects of the Hawksbill is its colour-changing shell, which reacts to temperature fluctuations in the water. Native to coral reefs across the Atlantic and Pacific oceans, these balmy waters mean the turtle is predominantly amber in colour, with brown and black mottling across its carapace and flippers.
This unique colouration is also coupled with bioluminescence, with the Hawksbill Turtle being the only reptile ever recorded with that ability thanks to its distinctive diet. They'll usually be found nestled in coral formations or shallow lagoons, and survive on a diet that's largely made up of sea sponges.
However, unsustainable, and invasive fishing practices have driven population levels of the Hawksbill to critically endangered levels.
8. Vaquita – Critically Endangered
Native only to the northern reaches of the Gulf of California, the Vaquita is part of the porpoise and dolphin family. It's a relatively recent discovery, having been first documented by scientists back in 1958. However, just over 60 years later, this secretive cetacean is bordering the brink of extinction, with as few as 10 left in the wild.
Easily mistaken for a dolphin, the Vaquita is most easily recognisable by the dark ring around its eyes and very tall dorsal fin which sticks out above the waterline. Literally translating to "little cow" in Spanish, it's distinct in that it's the only species of porpoise that lives only in warm water.
With a diet that primarily consists of small fish and crustaceans, this rare relative of the dolphins has been driven to the brink of extinction by illegal and invasive fishing practices that massively disrupt the creature's habitat and tangle them in nets.
7. Sumatran Elephant – Critically Endangered
When we think of endangered animals, many of us often immediately think of elephants, and for good reason give their history with poaching and illegal ivory trade. However, there's one species of elephant that's dwindled more significantly – the Sumatran elephant.
Native only to the forested regions of Sumatra and Borneo, this member of the elephant family shares many of the characteristics we associate with the gentle giants – trunks, long tusks, and large, billowing ears all define the Sumatran elephant.
They're also huge contributors to their environment, feeding on a wide variety of plants before distributing their seeds to ensure the continued growth and development of their environment.
However, the lush forests of Sumatra are being destroyed at an alarming rate, which has caused a catastrophic decline in population numbers of the country's native species (namely the Sumatran elephant, tiger, rhino and orangutan) in the last quarter-century.
6. Pygmy Hippopotamus –Endangered
One of the rarest species of hippopotamus, the pygmy hippo is much smaller than its more common counterparts. With an average height of just under a metre, its diminutive stature (coupled with its dwindling numbers) often makes it more difficult to spot in the wild.
It's only native to forests in West Africa, and is one of very few mammals to be completely nocturnal, both of which are factors in their elusive nature. However, it's believed they survive on a diet of plant life and fruits that grows on the banks of rivers and streams, as well as low hanging foliage.
While exact wild population numbers are unknown, there are a few in captivity that ensure the species can continue to grow, even considering the growing threat of hunting and invasive human practices like mining.
5. Sunda Tiger – Critically Endangered
Distinguishable from other species of tiger thanks to their thicker black stripes and darker fur, the Sunda tiger is actually one of the smallest species of tiger. Its key defining characteristic, however, is its mane of facial fur, which is often thought of as the tiger's beard.
Native only to the forests of Sumatra, this elusive species of big cat is actually the only member of its specific tiger subspecies (Panthera tigris sondaica), following the extinction of both the Balinese and Javan tigers.
The Sunda tiger is uncomfortably close to following its nearest relatives, with conservative estimates saying there could be as few as 250 left in the wild. This is largely down to deforestation and a loss of habitat, but poaching continues to be a pressing issue.
4. Sumatran Orangutan – Critically Endangered
One of the most critically endangered species of primate, the Sumatran orangutan is now only confined to the northernmost reaches of Sumatra. With numbers dwindling, and habitats rapidly being lost to deforestation, this cousin of the more recognisable Bornean orangutan faces an uphill struggle for survival.
They're heavily dependent on the dense canopies of the Sumatran jungles, being one of few species of monkey that spend almost all of their time in the trees. Feeding predominantly on fruits and insects, the Sumatran orangutan is at the largest risk from logging and the loss of forests across the Indonesian islands.
While there are a fair few in captivity, their wild numbers continue to decline, with exact figures being still unknown.
3. Mountain Gorillas – Critically Endangered
While this is a wide classification of multiple species of gorilla, it's an entire range that's under continued threat of extinction and endangerment. Western and Eastern Lowland gorillas, as well as Cross River gorillas, are all on the cusp of becoming extinct.
Best known for their resplendent black fur and close-knit groups, these majestic apes are now located solely across Western Africa, in places such as the Congo Basin, Nigeria and Cameroon. As one of our closest relatives, they've got complex social circles, with a dominant male (a silverback) watching over a group of females and younger gorillas.
With humans encroaching on gorilla territory, and illegal poaching and hunting still rampant across the African lowlands and forests, these beautiful creatures are being unrelentingly towards an uncertain future.
2. Amur Leopard – Critically Endangered
The second big cat on our list of the most endangered animals, the rarely sighted Amur Leopard isn't found where you'd expect a leopard to be found. Localised entirely in the far east of Russia, close to the Chinese border, the Amur leopard is one of the more enigmatic of the big cats.
It's largely solitary, hunting its prey with nimble footing and swift movements, before hiding it away from the prying claws and beaks of other predators and scavengers. This elusiveness, coupled with the remoteness of its habitat, means population numbers are difficult to determine.
However, what is certain is the threat that the illegal poaching and hunting trade poses to this impressive beast. The leopards themselves are huge targets, but with the rampant killing and trapping of the Amur's prey, they face the all-too-real prospect of not finding a meal.
1. Javan Rhinoceros – Critically Endangered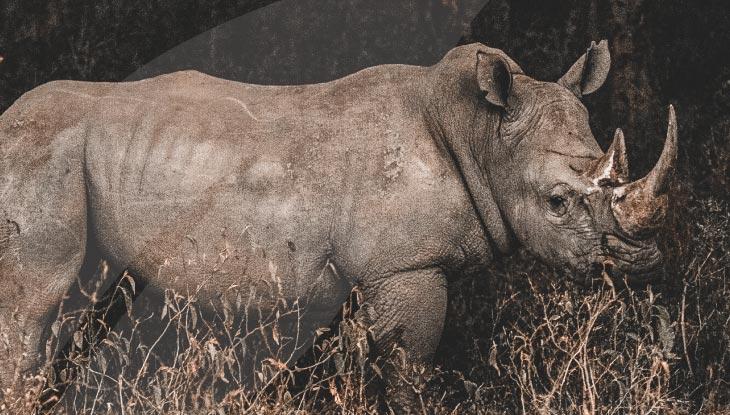 Often considered the most endangered animal in the world, the Javan Rhino unfortunately finds itself at the top of many lists for all the wrong reasons. Conservative estimates place the current numbers of Javan Rhinos at less than 100 across the globe.
While they were once thriving across the whole of Southeast Asia, this rare species of rhinoceros is now only found in the Ujung Kulon National Park, located on the Indonesian island of Java. Characterised by slate grey skin and a single horn, their skin has almost an armour-like consistency to it, and lacks the wrinkles we'd normally see on a rhino.
However, various factors have pushed the Javan Rhinoceros to the very fringes of extinction, and without continued support and concerted efforts, we run the risk of losing this unique species forever.
What Can Make An Animal Endangered?
Now that we've explored some of the world's most endangered animals, it's important to recognise the factors that can significantly influence animal populations across the world, as well as what needs to change in order for our planet to continue being a hub for biodiversity.
Let's break down a few key factors that have led these animals to the very edge of extinction, and what needs to change to ensure they can thrive again.
Illegal Poaching & Hunting Practices
This is often what many associate with fluctuating animal populations, and for good reason. While new, tougher laws have undoubtedly had a positive impact, there still remains a massive market for a huge range of animal products.
This is particularly the case in heavily forested areas, such as the Amazon rainforest or the African savannahs, but there's examples of this across the globe. Animals like the Amur Leopard, for instance, have been hunted to the point of near extinction.
Furthermore, the heavy use of gillnets in the Gulf of California is one of the key reasons we're seeing fewer and fewer numbers of dolphins, porpoises and the elusive vaquita. These are banned under many laws, yet we still see thousands of them used each day in aggressive fishing strategies.
It's clear that there's needs to be a focused effort on enforcing these new laws, and ensuring that all animals have an equal shot at existence.
Deforestation & Habitat Destruction
It's well-documented that the world's forests are disappearing at a rapid, unsustainable rate. Data from IUCN shows that, since the 1960s, we've lost over half of the tropical forests and jungles across the planet. That rate shows no signs of slowing, either.
Naturally, this has an untold impact on the habitats and homes of animals. Animal species that formerly had a much greater scope have been shoehorned into a much smaller or cramped area, and population numbers fall as a result.
Take the Javan rhinoceros as a poignant example. What was once a widespread and thriving species across the south of Asia is now confined only to a single national park in northern Indonesia, largely down to human practices that have decimated the rhino's natural habitat.
Climate Change
Arguably one of the biggest threats the animal kingdom faces is climate change. With global temperatures predicted to rise, it's inevitable that we'll see untold impact on the animal kingdom. This could mean extinctions, further habitat disruption, and changes to the circadian rhythms that provide many animals with routine and structure.
Plus, with the changing of the climate comes rising ocean temperatures and sea levels, leading to widespread impact across coastal and island areas, which are often crucial environments for many of the native species.
It's not all lost, though. As world governments place a greater emphasis on discovering sustainable, renewable energy sources, and take note of the impact that human action is having on the world, there's a definitive plan in place to avert a potential climate catastrophe.
Plus, if you're looking to get involved yourself, there's ideal measures you can put into place to ensure that your home or business energy utilises the cleanest and most eco-friendly energy sources.
How Can I Make A Difference?
While it might seem as though you can have little bearing on the mounting odds our world faces, there's a few different things you can do to ensure a sustainable future for all the planet's inhabitants.
We'll break down some of the most impactful things you can do, and why they're an important step to take on the road to a brighter and more prosperous future for the flora and fauna of Earth.
Switching Your Energy Provider
This is undoubtedly the single most important decision you can make, and one that'll have significant impact on both the planet, and the future of your business energy. It's at the forefront of all governmental policy making going forward, and the future of renewable energy is looking brighter by the day.
Plus, with expert switching services like Tariff, you're able to effectively move over to a more eco-conscious provider, and set yourself up for future successes. In a world where an environmentally-friendly ethos can help set your business apart, you're able to secure that switch with minimal effort, and no effect on your day-to-day running.
Go Net-Zero
Of course, while renewable energy is a brilliant first step in the right direction, opting to go net-zero is the way forward for those looking to really have an impact on the future of the planet.
In simple terms, this means completely offsetting your home or business' energy usage with investment in eco-initiatives. By doing this, you're essentially removing any negative effects your business could have on the environment, and contributing towards the slow planetary rebuild that governments have set into motion.
Tariff offers a completely bespoke net-zero package, taking your usage from its current levels down to a more manageable level, before aiding you in completely counterbalancing your energy use with woodland credits and investment in environmental projects.
Adopt Developing Energy Technologies
Naturally, with this further focus on greener energy sources, there's call for new technology to develop and grow, and that's something you're guaranteed with our services at Tariff.
We're pioneers of an emerging technology called PyroCore, which seeks to transform the waste products of your company into a viable source of fuel and energy to power your business. Not only does this provide a significant amount of thermal energy, it's also able to produce a fair amount of residual energy that can be used for smaller tasks, like hot water, heating, or water desalination.
Plus, as new tech emerges, our existing innovations develop alongside. Our focus on solar panels means we're at the cutting edge of renewable energy sources, plus with further governmental investment going into offshore and onshore wind farms, there's never been a better time to get ahead of the curve.
Donate To Registered Wildlife Charities
While you'll doubtless have a huge impact by switching your business energy provider, donating to recognised and well-established charities can be a great way to supplement what you already do for the environment.
­Choosing to donate to larger-scale organisations like the WWF is always a good idea, but if you're looking to have more of an impact closer to home, charities like the RSPB and Wildlife Trusts focus their efforts on conserving the natural beauty and wildlife of the UK.

At Tariff, we've made a firm commitment to helping businesses from all sectors adjust their energy usage habits. We have extensive experience in securing businesses the best possible deal on their gas and electricity, as well as preparing them for the looming 2050 deadline for net-zero emissions.
Whether you're uncertain of your business' future in energy, or you're ready to make the move to a cleaner and brighter future, get in touch with our knowledgeable team today to find out how Tariff can help your business begin its green journey.