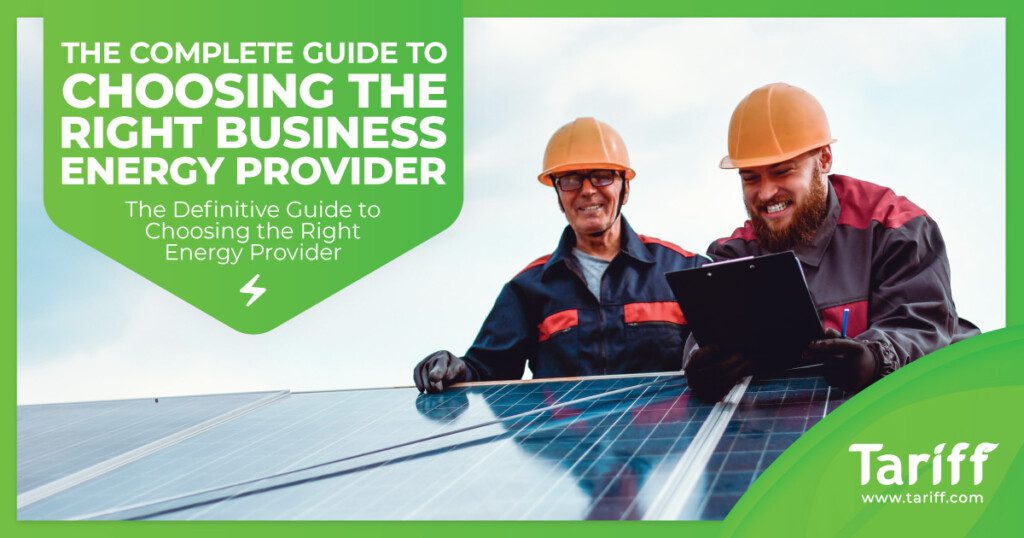 As a business, it's natural that you'd always looking for an economically viable solution. You're always on the lookout for the best possible deals, and that's particularly applicable to the price you pay for your energy. However, with a sea of options available, navigating your choices can be a challenge.
With our latest guide, Tariff will break down everything you need to know when it comes to choosing the right business energy provider. We'll explore all of the key aspects that should factor into the decision making process, the facts and figures you need to know, and what this means for the future.
We'll also look at how you can streamline this process with Tariff's industry-leading energy switching services, and how we'll simplify everything to ensure you can focus on what matters most to your business.
3 Key Points To Note About Business Energy
While you might already have some familiarity with domestic energy tariffs, the world of business energy does have some key distinctions that you need to make. These not only apply to every tariff you'll be offered, but to every deal across the sector, regardless of what type of business you run.
Let's explore some of the crucial things you'll need to be aware of as you make a decision, and what we at Tariff will be looking at as we consider your business energy deals.
1. Business Energy Is Usually Cheaper
One of the more important points to note about business energy is that it's usually charged at a cheaper rate than domestic electricity and gas. While this has been in a state of flux following the recent energy crisis, businesses have seen a consistently lower rate than homeowners.
The main reason for this is to promote economic growth, which has stagnated since the COVID pandemic. A cheaper energy rate means that businesses are able to invest more money into what they provide for their customers, and that they're able to allocate more resources towards what's important to their business.
As a general rule, this is dependent on the size and energy usage of your business, with larger enterprises generally seeing lower rates than businesses which are smaller, and micro businesses (less than 10 employees) having a substantially reduced price point.
If you're unsure of how that will affect your business and the price you pay, check out our beginner's guide to business utility bills, which features an in-depth guide to what your business can expect to pay for its energy.
2. Business Energy Contracts Are Longer
An important consideration for any energy tariff, alongside the type of contract, is the length of time you're tied into that contract for. These are typically longer than the contracts we see for domestic energy (most home energy providers will offer 1 year contracts), lasting between 2 and 5 years.
This is done with the aim of ensuring stability for business owners, as well as better matching with the leaseholds that business properties usually find themselves subject to. A more consistent monthly bill ultimately means better fiscal forecasting.
Longer contracts are also more beneficial to the energy provider, in that they're guaranteed a more steady stream of payments from a client.
3. Businesses Cannot Get A Dual-Fuel Contract
This simply means that a business cannot combine their gas and electricity into one deal. This is common practice for homeowners, but business owners are not afforded the same luxury. However, this does not mean that you can't get electricity and gas from the same provider – it simply means that you'll need to sign two contracts.
The reasoning behind this decision is that it's not financially viable for most energy providers to offer a "dual fuel" contract for businesses. This is often because businesses will use more of one power than the other (such as industrial facilities relying on gas more than electricity, or office blocks utilising electricity over gas).
Key Considerations Before Browsing Business Energy Providers
There are a few key areas to consider before you ever begin shopping around for a deal on your business energy. These will likely have already formed part of the initial plans you laid out for your business, but they're hugely important to consider here.
They'll also be key information that a business energy switching service like Tariff will utilise to great effect, sourcing a option that's perfectly tailored to what you need from your gas and electricity suppliers.
This includes:
Your Budget – How much, considering inflation and the current energy crisis, can you realistically afford to spend on your monthly energy bills? This links closely to our next point.
Your Preferred Contract Type – What kind of contract works best for your business? A fixed rate tariff will mean you pay the same rate over the course of your time with the company, whereas a variable rate adjusts in line with inflation rates, so it could be cheaper or more expensive. We'll touch on this more later.
The Type Of Energy You Use – For instance, if you operate a factory or heavy-duty machinery, you're more likely to be consuming gas at a greater rate than electricity. Similarly, if you operate a retail premises, you'll have a greater reliance on electricity.
How Much Energy You Use – Even a rough estimate of your business premises' usage figures can give you a good idea of what you'll need from your new provider.
Future Developments At Your Business – This could be a new initiative that you're launching, new equipment or machinery you're planning to implement, or an increasing workforce.
All of these factors should ultimately form the basis of any initial or perfunctory research you conduct into the energy market, or that you provide in any initial meetings with your chosen energy switching company.
They're all equally important factors, and they'll be crucial considerations as you proceed with any energy switching service you undertake. However, there are other things to look at when you're considering a new business gas and electricity provider.
5 Things To Look For In Your Energy Provider
Outside of the personal considerations we've just touched upon, there's also key areas of focus that we'd advise taking the time to consider when it comes to browsing the extensive energy market. These range from personal preferences, to preparing for the future of climatological changes, to more practical concerns.
We'll break down a few of these now, and why they should form the basis of any decision you make when it comes to your energy deal. It's also important to note that, at Tariff, these are all checks we'll complete as standard in any energy switching package.
1. Price Is An Obvious Factor
It will likely be the first thing on many business owners' minds, but price is one of the foremost concerns when it comes to choosing an energy. It's no surprise either – a successful entrepreneur always has to have the bottom line in the back of their mind, and energy prices affect that massively.
The business energy market (and by extension the energy market as a whole) has been deregulated since the 1980s, meaning that there's more competition across providers. This leads to better services, greater and more rapid innovation, and crucially more competitive pricing.
That's a factor we explored in more detail in our recent piece on business utility bills, but here are the crucial findings from that report (based on a 2 year deal):
Micro businesses (less than 10 employees) face an average yearly bill of £1,722, or a monthly bill of £143.
Small businesses (10 – 25 employees) pay around £4,960 each year, or roughly £413 each month.
Medium-sized businesses (25 to 50 employees) will have an annual bill of £7,947, equating to £662 each month.
Larger businesses (50 to 100 employees) face yearly bills of approximately £15,529, which averages out to around £1,294 a month.
Very large enterprises (more than 100 employees) pay on average £30,369 per year, calculated at around £2,531 each month.
One of the key things to keep in mind when you consider this data is that all of these prices are aggregated from several different companies industry-wide. You'll be able to find providers who go lower than that price, and those that charge an additional premium.
There's also additional aspects to consider when it comes to price. Companies who appear to offer a low price will often hide fees and surcharges (such as installation costs, meter fees and VAT), meaning the final price you pay can often be much higher than what's represented on the website.
That's where a recognised business energy switching company like Tariff can truly excel, steering your business clear of any misleading deal or prices that are likely to come with a metaphorical sting in the tail.
2. Suppliers May Have Different Tariff Options
While cost is understandably the first consideration of many when it comes to their business energy deal, it's vital you don't look at it in isolation. The figures we outlined in our previous point only tell half the story, the other part of which is explained by the different contract and tariff options available.
There are two main types of contract that a business can take advantage of:
Fixed Rate, whereby you'll pay the same rate per kWh for the energy you use. This doesn't mean you'll pay the same cost per month, but it does provide more stability and easier financial forecasting.
Variable Rate contracts won't have a set price per kWh, and instead this can fluctuate based on a number of factors, including interest rates, political changes and other global changes. While this does mean you can't make any concrete predictions, it can mean you pay a cheaper rate over the course of your contract.
These are the two primary types of contract that suppliers will offer. For businesses, these will most likely be offered for between 2 and 5 years, with an opportunity provided to extend at the end of that period.
Certain providers can also offer flexible or "flexi" contracts, where you're able to leave or adjust your current deal as you go. These are usually offered to newer, smaller businesses who may find themselves moving premises more regularly, in a bid to ensure more stability as a business emerges from its early stages.
Contracts are an often overlooked aspect of choosing an energy supplier, but by opting for a dedicated energy switching service like the one offered here at Tariff, you'll always be placed on a contract that's specifically chosen with your business in mind.
3. Consider Your Energy Provider's Eco-Credentials
It's well-documented that the climate is at a precipice. Without sustained action on a national and international level, we face drastic consequences in both the short-term, and for the future. That ranges from natural disasters, to a loss of biodiversity, to widespread and often devastating impacts on communities across the globe.
We've addressed this in much more depth in our guide to the biggest environmental issues we currently face, but suffice it to say that, without continued and concerted efforts, we face an unthinkable and often unimaginable future.
That's why many energy providers are shifting their focus to renewable or greener energy sources, with eco-minded providers like Ecotricity (the UK's largest supplier of green-only energy) and Octopus Energy leading the charge.
It's a movement that's gathering momentum, too. As one of the UK's frontrunners in business energy switching services, we've seen a distinct shift in the last decade (and especially so since the pledges made at COP26 back in 2021), with many providers placing more of an emphasis on cleaner energy through wind, solar and hydropower.
We'd always advise anyone browsing around for an energy supplier to consider their environmental policies and commitments. With the UK on track for net-zero by 2050, and energy suppliers playing a pivotal role in that, it makes both eco-conscious and fiscal sense to opt for a provider who has that shift in mind.
That's something we truly value here at Tariff, and that we forefront that during our bespoke business energy switching process. We're constantly looking to the future, and to how we can better equip your business for the coming changes, with a huge component of that revolving around improving your eco-credentials.
4. Customer Reviews Can Influence Your Business Energy Choice
We're constantly on the lookout for positive words surrounding anything we purchase, whether that's browsing reviews of a product or asking friends for recommendations. There's no reason your energy should be any different, and it's with that in mind that many turn to online reviews to inform their choices.
This can help in multiple ways, especially with many online resources offering a more comprehensive overview or tailored advice for your circumstances. You'll be able to discover insights from people who've been in your shoes, on exactly how that tariff or company will work with you.
In fact, the recent surge of customer comparison sites have capitalised on this, allowing users to swap stories and provide more bespoke recommendations to people who are doing, or planning to do, the same.
At Tariff, this is something we use to exceptional effect, using our extensive and illustrious network of partner companies (which we'll touch more on later) to explore every possible deal, tariff and contract length to find a solution for you.
We'll also take into account an amalgamation of reviews from popular sites like Trustpilot and Google Reviews to ensure that we're not only taking our research into consideration, but that we're using real-world experiences to find something that's perfectly suited to you.
5. A Company's Use Of Technology Can Play A Role
It's no secret that technology in energy is constantly evolving. Wind and solar are at the forefront of that movement, with new initiatives being spearheaded and funded that look to provide new and innovative solutions, as well as strengthen existing schemes.
That sustained focus has also led to smarter and more efficient technology being used in homes and businesses, with smart meters and similar tech offering more control over the energy we use than ever before.
It's also a key consideration when it comes to who you opt for in terms of your business energy. It's abundantly clear that technology like smart energy tracking and systems such as IPSUM are set to become the norm, and by choosing a provider that's already begun that journey, you're setting yourself up for the future.
Here are just a couple of great examples of providers that Tariff works alongside, and how they're gradually introducing smarter technology to streamline reporting of energy usage, and save their clients money:
British Gas – Creating waves with its Hive technology, British Gas are able to offer smart meters, Internet-connected thermostats, and smart electronics to ensure that power is used effectively, efficiently, and in a fiscally responsible way.
Scottish Power – Leading the charge in Internet-enabled devices like smart lighting and plugs, Scottish Power offer a huge range of smart technology that allows businesses to take back control of their energy bills, and be more aware of exactly what they're using.
Ultimately, opting for a business energy provider that's got emerging technologies firmly embedded in their strategy is a smart decision, and allows you to better prepare for a future where this gradually becomes the standard.
As one of the UK's most forward-thinking energy switching services, this is something we're proud to champion, and that we'll always take into consideration as we choose your next move in energy.
Who Are The Biggest Business Energy Suppliers?
The energy market, while its been deregulated for over 30 years, does still have its larger and smaller suppliers. This can be based on their turnover, their market share, their reputation across the sector, or a multitude of different factors.
Some of the largest providers of business gas and electricity include:
British Gas (including their Green and Plus Services)
EDF Energy
Engie
Octopus Energy
Scottish Power
Shell Energy
SSE
Total
At Tarif, we seek to work alongside every single one of the bigger names, as well as keeping in mind that smaller providers can often have the edge over larger players, especially when it comes to innovation, price and customer service. Here's a complete list of the energy providers Tariff currently works with:
British Gas, British Gas Green, British Gas Lite, & British Gas Plus
CNG Power
Corona
EDF Energy
Engie & Engie Green
E-on Next
Everflow Water
National Gas
Npower
Octopus Energy
Opus Energy
Scottish Gas & Scottish Gas Green
Scottish Power
SEFE Energy
Shell Energy
Smartest Energy
SSE & SSE Green
United Gas & Power
Utilita
Yu Energy
Our approach has always been to fully explore the market, regardless of the size or scope of a provider, in order to truly uncover a deal that's built with your company in mind. Our research is what truly sets us apart in our sector, and allows us to not only offer a comprehensive and tailormade service, but to properly understand what makes your business tick.
Tariff Streamlines Your Business Energy Choices
Whether you've already done research into the options available to your business, or you're seeking a better deal but don't know where to begin, Tariff can step up to alleviate all of those concerns. Our tried-and-tested approach begins with learning exactly what your business needs, and how it deploys its energy.
Our expert team will get to intimately know your business, and what it needs to thrive, before embarking on all of the legwork to discover an energy provider that's chosen with you in mind. We'll then present our findings to you, offering you the final say on everything relating to your energy.
All of this comes in addition to our masterful comprehension of the current energy market, and how it's continually evolving. We consider ourselves to be exceptionally knowledgeable on all things energy, and that translates to a better deal for you and your business.
Get in touch with our expert team today, and we'd be more than happy to discuss your options with you, as well as provide a complete insight into what Tariff can offer for your company!

At Tariff, we've made a firm commitment to helping businesses from all sectors adjust their energy usage habits. We have extensive experience in securing businesses the best possible deal on their gas and electricity, as well as preparing them for the looming 2050 deadline for net-zero emissions.
Whether you're uncertain of your business' future in energy, or you're ready to make the move to a cleaner and brighter future, get in touch with our knowledgeable team today to find out how Tariff can help your business begin its green journey.