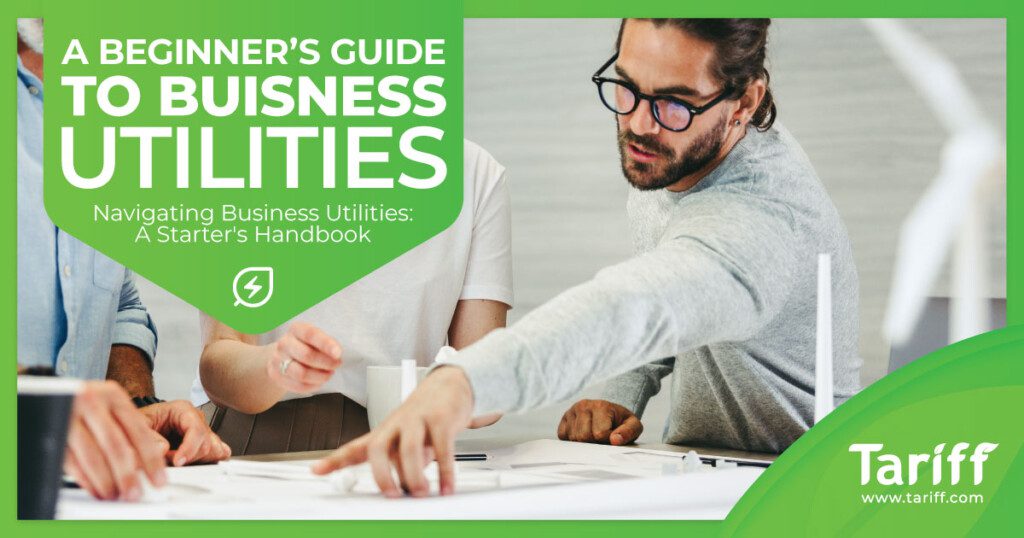 The world of business energy can often be daunting. Whether you're making your first foray into business with your own premises, or you've hit a snag with the fluctuating terminology we see across the sector, learning or refamiliarising the basics of business utilities can be hugely useful.
That's where Tariff comes in. Our extensive and unmatched knowledge of business energy, terminology and what it all means for your final bill means we're perfectly positioned to provide a comprehensive overview of what you can expect from business utilities.
We'll break down everything you'll need to be aware of, what all the commonly used terms and acronyms mean, and why they matter when it comes to understanding how energy is billed for your business. We'll also explore possible avenues of how you can take better control of your business energy solutions through a dedicated switching service that's built with you in mind.
What Are Business Utilities?
The term "business utilities" refers to any form of energy that a business uses. This is most commonly used for gas and electricity, but it also extends to cover business water, broadband and other new and emerging technologies. All of these are equally important for a business, and serve multiple different functions.
At its most basic, you'll likely need electricity to power lighting, machinery, heating and other necessities. Some enterprises – usually larger-scale industrial or manufacturing businesses – will also rely heavily on gas, especially if large-scale machinery or equipment is used.
Many businesses opt to use the same provider for these services. This could be down to convenience, a lack of time to get organised, or simply because they're unsure of the other options available to them.
Water for businesses is slightly different from the bills you'll have at home or in domestic properties. Businesses have the freedom to choose who provides their water supply thanks to recent changes to the unregulated water market, whereas homes will have a designated provider for their region.
For example, this is United Utilities for the North West, and Thames Water for London, but there are 10 different suppliers nationwide – check what's available where you're based using our interactive map.
With more recent changes to our perceptions of energy, and to worldwide initiatives aimed at reducing our global carbon footprint, electric vehicle charging points are fast becoming an additional utility for businesses to consider.
These not only allow for colleagues to charge their vehicles (which are set to become the norm as soon as 2030), but it portrays a forward-thinking and environmentally-conscious perception of your business.
The Key Terminology On Your Business Utility Bills
While it's something we all grapple with at one stage or another, energy bills are often shrouded in mystery, with sector-specific terminology making it difficult to decipher exactly what you're paying for.
As one of the UK's pioneers in energy switching services for businesses, we're perfectly positioned to explain all of the necessary acronyms and terms you'll see on your bill, and exactly what that means.
Let's break down the key jargon you'll see on your business utility bills, and how they factor into the price you pay.
kWh – Standing for kilowatt per hour, this is the amount of energy you've used. It's a standardised measurement, and means the power it takes to run a 1,000 watt appliance for an hour. It's also referred to as the unit rate.
Standing Charge – This is the cost associated with ensuring you stay connected to your current energy supplier. This is applied regardless of how much energy you expend.
CCL – This is a recently introduced concept called the Climate Change Levy. Aimed at reducing the amount of non-renewable energy that businesses use, you'll need to pay this against any energy you use that isn't from a renewable source. Importantly, you'll only need to pay this if your business uses over 12,045 kWh per year. You'll also be exempt if your business has a residential element to it, such as a hotel, care home or B&B.
VAT – Value-Added T Applied to almost every product and across the UK, businesses will be required to pay an additional 20% on top of their energy costs in line with the current rate of VAT. However, this only applies to businesses that use over 12,045 kWh per year.
MPRN – Your Meter Point Reference Number. While this isn't a charge in itself, it will be something that's on your bill. It's usually between 6 and 10 digits, and is an identifier for your unique meter.
Contract End Date – You're also likely to see the date that your current contract will end with your provider. This will be the date after which you'll need to source a new provider.
These are present on almost all energy bills for UK businesses, and give a comprehensive overview of what you'll be paying, as well as key information to ensure you're billed properly. There are a couple of more niche terms you may see, which can also be present on your business utility bill.
IGT Charges – If your gas is provided by an IGT, or Independent Gas Transporter, you may be charged an additional surplus to subsidise any associated costs for this. IGTs will generally charge energy suppliers as opposed to your business personally, meaning it's rare to see this on your bill.
Smart Metering Charges – A recent initiative that's become more commonplace in the energy sector is the use of smart meters. Some energy providers fit these as standard, and you may see a charge associated with this on your bill if your provider has fitted one.
Bear in mind that these are just the visible charges you'll see on your energy bill – there's actually a huge range of invisible charges that contribute towards the overall price you pay, and that make up 70% of your total bill. Read more in our comprehensive exploration of business electricity bills, which delves deeper into those hidden costs.
What Kind Of Contracts Are Available For Businesses?
Now that we've broken down what you can expect to see on your monthly or annual bill, the next step is to look at the different options you have when it comes to contract.
There's benefits to each of the two main types – fixed and variable – and the likelihood is you'll have some experience of one or both. We'll also look at a couple of other different contract types that may be something you'll encounter as you browse around for the best deal on your business energy.
Fixed Energy Contracts For Businesses
As the name implies, fixed contracts will "fix" the price you pay for energy (kWh) at a pre-determined price point. This will then be your set price per kWh for the full duration of your contract, which is usually between 1 and 5 years.
Bear in mind with this that only your price per kWh is fixed, not the amount you pay per month. If you use more energy in a month (if you're heating an office over winter, for example), you'll naturally pay more for that period.
Variable Rate Contracts For Business Energy
The counterpart to the aforementioned fixed rate contracts, variable contracts will change over the course of your contract. They'll fluctuate based on trends across the energy market, as well as global factors that influence the production and flow of electricity and gas.
This can be both beneficial and detrimental. If energy prices fall, you're likely to see some savings in your monthly bills, but if they rise, you'll naturally have to pay more.
Extended Tariffs
This kind of contract or tariff allows you to extend the duration of your contract with your current provider. Most businesses will opt to browse around or use a business energy switching service, but if you feel you've got a particularly good deal, or you've got a particular affinity for your current provider, you can enquire about extending the contract you're on.
Deemed Rate & Rollover Contracts
These are the contracts you and your business will desperately want to avoid. They're usually seen as a method of penalising a business for a mistake or misstep, and will often come with a much more expensive rate per kWh.
They'll usually happen as a result of a business owner forgetting either to switch or extend when a contract ends (known as a rollover contract), or if they change premises and fail to notify their current energy provider (a deemed rate contract). The deemed rate contract is run by the energy provider for the previous tenants of the premises you move into.
4 Key Differences Between Business & Domestic Utilities
While it's easy to assume that you'll be on the same kind of deal for both your home and your business energy packages, there are key (and often crucial) distinctions to make between the two. Let's explore just 5 of the key differences between business utilities and their domestic counterparts.
1. Business Energy Rates Are Often Much Cheaper
Perhaps one of the more relieving aspects of browsing for a deal on your business utilities is that you'll often find the rates are much cheaper in comparison to domestic property energy rates. This varies based on the size of your business, and the amount you're expected to use as a business of that size.
Let's break down what this might look like for businesses of varying sizes, as well as a rough estimate of what that would cost on a 2 year contract. We're using the latest figures to ensure that this is as accurate a reflection as possible of what you can expect to pay, although with the volatile nature of energy prices, these are subject to change.
Micro businesses (usually less than 9 employees) that have an energy usage of below 5,000 kWh per year can expect to pay around 29.9 pence per kWh and a daily standing charge of 62.9 pence, equating to a bill of approximately £1,722 per year.
Small businesses (usually more than 10 but less than 50 staff) that consume between 5,000 and 15,000 kWh per year will see rates of 29.8 pence per kWh, alongside a daily standing charge of 78.5 pence, meaning a yearly bill in the region of £4,960.
Medium-sized businesses (between 50 and 100 employees) with a consumption of between 15,000 and 25,000 kWh per year will usually see a rate of 30.1 pence per kWh, as well as a daily standing change of 115.7 pence. All of this equates to an annual bill of approximately £7,947.
Large businesses (more than 100, but less than 250 staff) that use in the region of 25,000 to 50,000 kWh per year can expect a rate of 29.9 pence per kWh and a daily standing charge of 160.1 pence, which all adds up to a cost of £15,529 per year.
Beyond that, very large businesses or enterprises (more than 250 employees) that regularly see energy usage of more than 50,000 kWh per year will face the lowest rates for businesses – 29.7 pence per kWh – but the highest standing charge at 175.2 pence. All of this equates to an average yearly bill of around £30,369.
Homeowners will start to see a similar rate from October of 2023. As you'll likely be familiar with, prices are capped in the wake of the recent energy crisis, and domestic properties are capped at a maximum yearly price of £1,923 from October, made up by a maximum of charge of 27 pence per kWh and a maximum standing charge of 53 pence.
2. Businesses Have Separate Fuel Contracts
For the majority of homeowners, convenience can often take precedent. Energy suppliers have long since understood this, and provide that ease through joint contracts that encompass both gas and electricity, the two most common forms of energy.
Businesses aren't afforded that same luxury, however. They'll need to have separate contracts for both their electricity and their gas, meaning they'll receive separate quotes for each of these too. There are a couple of different reasons why this is, with the primary one being related to our previous point about price.
The cheaper rates often mean it's not viable for companies to combine both gas and electricity into one "dual-fuel" package for businesses, especially with the fluctuating energy market, and with some businesses relying more on one than the other.
However, while it's important to note that businesses can't take advantage of a dual fuel deal, you are still able to opt for the same provider for both gas and electricity – you'll simply need to sign two contracts as opposed to one.
3. Contracts For Business Utilities Are Usually Longer
An average energy contract for a homeowner or in a domestic property is usually a year. For businesses, however, this is often much longer, with many providers tying businesses into contracts that last between 2 and 5 years.
There's benefits on both sides of this. Providers are able to secure the continued custom of a high-value client, and ensure that there's a steady and regular payment coming in. It also helps to foster a more stable, mutually fulfilling relationship so when the time for renewal rolls around, the perception is already positive.
For businesses, a longer contract can ensure that prices stay consistent, and the monthly outgoings are easier to forecast. That's especially true of fixed rate contracts, although variable contracts do still provide some semblance of stability for your finances.
A longer contract also better matches with the greater permanency that a business is seen to have. The likelihood is, if you've settled into a premises with the intention of continuing to work in your chosen sector, you'll want to have an energy contract that's got that long-term approach in mind.
4. Business Utility Contracts Don't Have A Cooling Off Period
If you've got any experience with more domestic energy bills, the chances are you'll have some experience with "cool off" periods. This is a 2 week (14 day) period that occurs at the start of a contract with an energy provider, wherein you're able to cancel your current contract without a penalty or additional charge.
Businesses aren't subject to that same period, meaning that you need to be 100% certain of the provider you opt for before you commit to them. Without that essential initial research, conducted either by yourself or through the help of a dedicated business energy switching company, you run the risk of being tied into a contract you're not happy with.
Tariff Makes Business Utilities Hassle-Free
As we've touched on throughout this article, opting to outsource your energy worries to an business energy switching service is an obvious choice. And with our bespoke, meticulous approach here at Tariff, you're guaranteed a result that's perfectly suited to you, your business and your budget.
At Tariff, we strive to make everything as streamlined as possible. We'll start with a comprehensive analysis of every aspect of your business, ranging from the number of staff you currently employ, to the size of your enterprise, to your plans for the future.
Next, we'll take our findings and use them to source what we consider to be the best options for your business' energy needs. We've got sustainability at the forefront of our minds when we do this, and we're able to better prepare your business for a cleaner, greener future.
We'll shortlist several options, before handing back over to you for the final say. Nobody knows your business as well as you do, and we're firm believers that, by providing a selection of appropriate options, you'll be able to choose the one that's right for you.
Once you've made that decision, we'll take over again, and migrate all of the necessary information across to your new provider. All you'll need to do at this late stage is pay your final bill, and we'll take care of the rest.
If this sounds like the ideal solution for your energy woes, get in touch with our exceptionally knowledgeable and helpful team today, and we'd be more than happy to provide a comprehensive overview of our services, and exactly how we can help you.

At Tariff, we've made a firm commitment to helping businesses from all sectors adjust their energy usage habits. We have extensive experience in securing businesses the best possible deal on their gas and electricity, as well as preparing them for the looming 2050 deadline for net-zero emissions.
Whether you're uncertain of your business' future in energy, or you're ready to make the move to a cleaner and brighter future, get in touch with our knowledgeable team today to find out how Tariff can help your business begin its green journey.