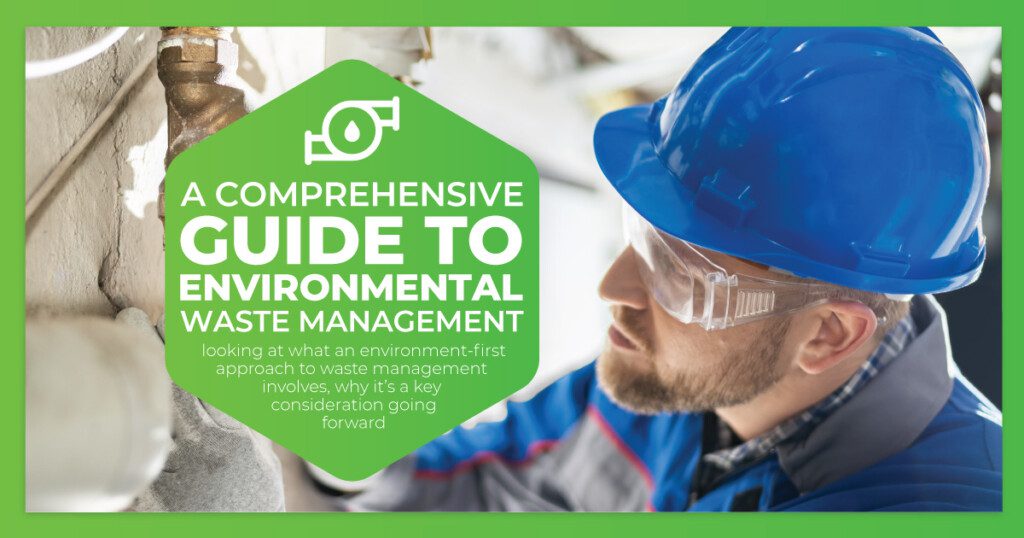 It's an inescapable truth that all businesses will have some form of waste. Whether that's surplus materials from a construction site, run-off or hazardous substances from a chemical plant, or simply wastepaper and office supplies, every company – irrespective of their sector or industry – will produce waste.
However, it's how we deal with that refuse that's absolutely integral to the world of modern business, and especially so as we approach the global deadline of net-zero by 2050. Effective and environmentally-friendly waste management is a key component of that move towards a sustainable, carbon neutral future.
At Tariff, this is where much of our focus lies, especially given our place as one of the UK's foremost providers of energy switching services for businesses across all sectors. We understand the pressing concerns about waste management, and how it can factor into the decisions you make for cleaner, greener future.
We'll look at what an environment-first approach to waste management involves, why it's a key consideration going forward, and how you can get ahead of the curve with emerging technologies like PyroCore when you're looking to plan for your business' place in a more energy-efficient future.
What Is Environmental Waste Management?
Environmental waste management means any way we dispose of rubbish or other kinds of waste that's environmentally friendly, or that doesn't contribute towards our carbon footprint. This is true for both businesses and individuals.
This isn't something that's particularly new in its most rudimentary forms. The likelihood is that you've already seen this as part of your business or home life, whether that's in the form of recycling initiatives, compost bins, or charity donations.
At its core, good waste management is a method that's both convenient for its participants, and that contributes positively towards environmental initiatives, whether that's on a local, national or international basis.
A few of the more prominent examples of environmentally-friendly waste management methods include:
Recycling initiatives – most commonly glass, plastic and cardboard
Composting bins and tubs, including those at public allotments
Donation banks, such as food, clothes and shoe banks
Electrical waste recycling, including batteries, appliances and computers
Other recycling or disposal initiatives, such as makeup containers
These have undoubtedly already had their considerable impacts, especially as the UK in particular has geared more towards recycling across homes and businesses in the last few decades. Indeed, that's best exemplified by the country's recycling rate, which studies indicate sits between 45% and 47%.
But why is it important that these initiatives continue to grow, and ultimately expand to reach the 65% that was set out by the post-Brexit Resource and Waste Strategy? What's the true positive impact of environmental waste management?
Why Is Environmental Waste Management Important?
Understanding how we dispose of how our waste, and how that factors into the future on both a personal and a planetary scale, is essential to ensure continued progression. Now that we've got a more clear overview of what environmental waste management is, we can look to how it provides substantial benefits.
Here are just 3 of the key reasons why managing our waste in an environmentally-conscious manner is incredibly important, and how we can continue to support those initiatives, as well as play our role in a greener future.
1. Prevents Up To 15 Million Tonnes Of Carbon Emissions
The latest governmental estimates show that the UK's recycling initiatives save between 10 and 15 million tonnes of carbon being released into the atmosphere each year, which is roughly equal to removing 3.5 million cars from the roads.
Having been in place for over 70 years, the UK's recycling schemes have expanded significantly over that time, with more robust technologies, greater local and national infrastructure, and more accessibility being some of the more pivotal changes over that period.
That meteoric rise has led to a plateau in the last 7 years, with our recyclables rate fluctuating between 44% and 46%. 2019 saw the highest rate of that period, with 46% of the UK's total waste being recycled.
That's predominantly based in plastics and glass, but also includes less immediately obvious recyclables, like cardboard and compost. Even smaller recycling schemes, such as those in local or small communities, all contribute towards that rate.
Carbon emissions are one of the key contributors towards climate change, and towards global warming, which has made recent headlines due to rapidly fluctuating temperature extremes across the world.
These emissions trap heat form the Sun, creating what's known as a "greenhouse effect". This means heat can get in but cannot escape as it normally would do, leading to rising temperatures, melting ice caps, surging sea levels and a loss of biodiversity, amongst other devastating impacts.
No matter how unimpactful your contributions may feel, every recycled container or piece of plastic indisputably contributes towards that reduction in carbon emissions, and towards stemming the growing tides of climatological concern.
2. Reduces The Amount Going To Landfill
It's an inescapable fact that our landfills are at breaking point. The most recent figures on landfill capacity shows that, of the 527 official landfills and waste disposal sites across the UK, over 220 of them are already full.
A worrying amount still heads to these sites each week too, contributing towards the overall yearly figure of 15.3 million tonnes that either are not recyclable, or that haven't been recycled in the correct manner.
We highlighted the UK's overflowing landfills as one of the largest environmental issues of 2023, and for good reason. Packed landfills often feed into further issues for the environment, such as polluted rivers and land, and ecosystem disruption.
Of course, while these statistics on landfills do make for grim reading, recycling and effective environmental waste management strategies go some way towards alleviating those issues, and to reducing what we send to landfill.
That's already in motion across the UK. Since 2010, the amount we send to landfill has fallen on year-on-year basis, with that set to fall again as we get the statistics for 2023 and beyond. Of course, as the statistics we've just looked at prove, there's still work to be done.
3. Minimises The Necessary Processes For Production
By its definition, recycling means utilising an already used product to make a new product. The process involves sorting, cleaning and repurposing those materials so that they can be reused for other purposes.
While this may seem like a resource-intensive or laborious process, it's actually much less so than the processes needed to create a product from scratch. Where recycling only has two to three main components, there's a much more demanding process for creating a product.
This is often a multi-stage process that involves:
Extracting the raw materials
Processing those materials into usable components
Constructing the product
Producing that product on a mass scale
Distribution and supply networks
This multi-faceted approach, particularly the extraction and processing stages, is much more energy-intensive than using materials that can be easily recycled, like aluminium, plastic, paper, and glass.
To put this into perspective, there's substantial data to show just how much energy even a small amount of recycling can save when compared to the energy needed to create that same product from scratch.
Recycling a single aluminium can, for instance, saves enough energy over producing an entirely new one to power:
A hairdryer or air conditioner for 10 minutes.
A laptop for over 5 hours.
A lightbulb for over 20 hours.
While these figures may seem underwhelming, it's important to remember that we generally won't only recycle a single aluminium can or one plastic bottle – we'll often place a full container of these into our bins, meaning we can compound the energy we save.
Ultimately, opting to recycle can reduce our collective reliance on these intensive processes, and to change mindsets to one that focuses on products with a good portion of recycled materials in its construction.
What Does The Future Hold For Waste Management?
In truth, this is a difficult question to answer. While there's undoubtedly been a shift of commercial and public perceptions of environmental waste management as recycling becomes a much more accessible feature, the future is hazy at best.
However, by looking at some of the innovative technologies and initiatives that have emerged over the last few years, we can view the future of waste management and disposal with renewed optimism and hope for a cleaner, brighter future.
One key aspect of this is likely something you'll have already encountered, whether in your daily life or in the professional sphere. Many major brands and multinational companies and conglomerates have, in recent years, made the switch to predominantly or fully recycled plastic.
Coca Cola, for instance, rolled out fully recycled bottles for all of their flagship drinks across the US just a couple of years ago, with many others following suit, or paving the way for further developments.
We're seeing much more of this happening, with brands quickly recognising that consumers are looking to invest more of their money into products that are geared towards a cleaner and more sustainable future.
This shift is something we've explored in more detail in our article on the most environmentally-friendly companies, but it's equally something that needs to be more widely adopted if we're to see a more widespread, impactful change to the future of waste management.
A report published by the Green Alliance back in 2017 outlined the Government's plans for a post-Brexit waste management strategy, where recycling and repurposing initiatives took precedence. That set out an ambitious target of 65% of waste being recycled by 2030.
While we still fall some way short of that goal (the latest figures on recycled waste show that we're currently hovering at around 44.6%), it's abundantly clear that there's investment and focus on recycling, clean energy, and environmental waste management.
Plus, with emerging technologies like PyroCore taking the business sphere by storm, and offering an innovative, intelligent way to dispose of waste in an environmentally-conscious manner, the future looks bright for waste management.
How Can My Business Get Involved?
While it's still an emerging technology, PyroCore represents one of the most groundbreaking ways forward for waste disposal across a huge range of sectors. It's a truly one-of-a-kind method, utilising a cutting edge pyrolysis process to convert waste into small volumes of char.
This allows the intelligent machinery to capture the energy that the pyrolysis chamber produces, as well as separate any leftover waste material as an aggregate, and in turn use that to provide a clean and powerful energy source.
Perhaps PyroCore's biggest selling point, however, is its innate ability to become a self-sufficient system of providing power and energy to your business. The PyroCore unit itself is self-sustaining, with no need for an external fuel or power source.
The thermal energy it produces, alongside offering an exceptionally clean and green way of disposing of the inevitable waste your business produces, can also function as a way to provide hot water for sinks and bathrooms, water desalination, heating in winter, and even steam generation.
As one of the frontrunners in the charge for cleaner and greener ways to dispose of our waste, it'll come as no surprise that we've taken to opportunity to partner with PyroCore in order to offer it as part of our all-encompassing energy packages here at Tariff.
We're constantly on the look out for ways to improve your business' eco-credentials, whether that's through our focus on environmentally-conscious business energy solutions, our innovative solar panelling options, or in our signature net-zero packages.
All of these can be combined with, or run alongside, your PyroCore package, ensuring that you've not just futureproofed your environmental waste management solutions, but your business' energy future too.
With 2050 fast approaching, opting for Tariff's all-encompassing approach to waste solutions and green energy ensures you can not only get ahead of the curve, but that you can guarantee a smooth and energy-efficient future for years to come.
Get in touch with our expert operatives today, and we'd be more than happy to provide a solution that's not just got you and your business' future ventures in mind, but that's perfectly tailormade to suit your unique demands.

At Tariff, we've made a firm commitment to helping businesses from all sectors adjust their energy usage habits. We have extensive experience in securing businesses the best possible deal on their gas and electricity, as well as preparing them for the looming 2050 deadline for net-zero emissions.
Whether you're uncertain of your business' future in energy, or you're ready to make the move to a cleaner and brighter future, get in touch with our knowledgeable team today to find out how Tariff can help your business begin its green journey.