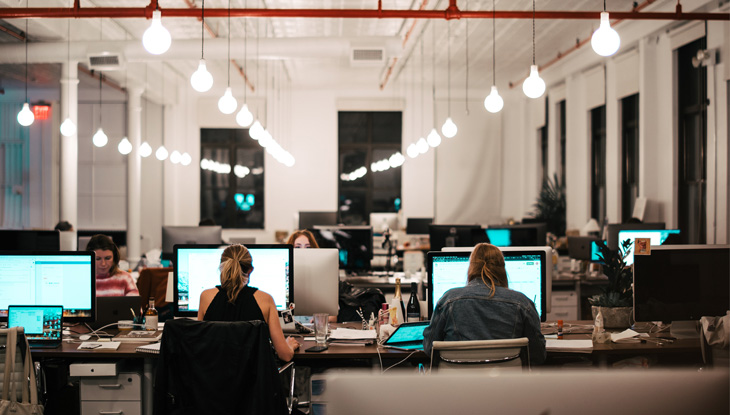 With the 2022 summer season edging closer towards its finale, businesses up and down the country are looking anxiously at the cold autumn and winter months, and how they'll keep their premises warm without sinking into the red. Already, we have seen a raft of small businesses collapse under the weight of extortionate energy bills and, as prices are set to increase further in October, many more are fearing a similar fate.
Unfortunately, higher bills will be dropping through letterboxes and email inboxes for the foreseeable future. This is as true for the owners of rural corner shops as it is for large businesses with premises that cover many thousands of square feet.
However, the situation need not be as dire as some of the more apocalyptic predictions are describing. There are steps and actions businesses can be taking to shield their bottom lines from the worst of this global energy crisis.
Businesses of all sizes can keep their premises warm over the coming months without freezing their profit margins and in this guide, we'll explain how.
5 ways you can make your building more energy efficient
Through your windows and doors
Particularly in the cold autumn and winter months, windows become big energy drainers, losing more heat than any other surface on a building. Though it's unlikely that windows will be open against icy temperatures, if you see one that is, close it.
Also, whether your premises are private or open to the public, foot traffic contributes to heat loss by the simple act of doors being left open – even internal doors. Save your heating system from having to work harder by installing weighted doors or attach closing mechanisms to existing doors.
Sticking with doors; if you own an entire building as opposed to office space, you should consider installing revolving doors at main entrances. Apart from managing footfall, revolving doors prevent heat loss because they are, in effect, always closed.
Use the power of the sun
Even on the bitterest of winter days, if the sun is shining, it's giving off heat. By keeping curtains and blinds open during the day, room temperature will raise naturally, meaning radiators can be turned down. As an added benefit, sunlight will elevate the mood of your employees and prevent illness-causing bacteria from multiplying as they would in a dingier environment. In other words, you can benefit from solar power for free.
Program your thermostat
The HSE Approved Code of Practice suggests the minimum temperature in an office or other workplace should generally be at least 16°C. Despite this, many businesses operate during cold spells in spaces that are much warmer than this.
As obvious as it might be, double-checking what temperature the thermostat is set to is something often overlooked, as is whether a timer has been set so that radiators aren't working away when no-one's around. In other words, check your thermostat.
Lower water pressure
Many multi-story buildings still have plumbing systems that require water to be pumped to the upper floors. Such systems become stressed during cold spells as the water must be heated first so it doesn't freeze and cause pipes to burst. By lowering the water pressure, the system will pump water more efficiently thereby reducing the amount of energy consumed.
Insulate
Appropriately insulated buildings need less manufactured heat to keep warm and are thus cheaper to run. The initial outlay might be more than you were expecting but with rooves and cavity walls packed with insulation, the returns are soon realised across future energy bills.
If a full insulation job stretches your budget too much, simply weatherstripping doors and windows will prevent heat escaping enough to keep costs more manageable.
Heat only specific areas
With new, energy-efficient boilers, distribution systems, and Zoned Heating businesses today can heat only those areas within a building that actually need to be heated. These appliances can also incorporate other technologies such as air source and ground source heat pumps, biomass boilers, and CHP systems. As well as significantly reducing your gas consumption such solutions will reduce your overall carbon footprint.
What if I receive a bill I can't afford?
It's difficult to say with any certainty just how bad the energy crisis will get but even after taking every step possible, it might be the case that a bill comes through that you simply cannot afford.
If this happens, don't go to any worst case scenarios too quickly.
Instead:
Make sure the bill is accurate
Anomalies do happen and, especially if your supplier estimates your bills, there's every chance you'll have been charged too much. Get in contact with your supplier and have them examine the invoice against your actual meter readings.
If a mistake has been made, either install a smart meter to prevent it happening again or take regular meter readings yourself and send each one to your supplier.
Check you haven't been charged for historical usage
This only applies to what's known as a 'microbusiness'. Where a company falls under this classification then it can only ever be charged for energy consumed in the previous 12 months of trading and for nothing before.
A company generally falls within the microbusiness classification where:
It has fewer than 10 employees or a turnover of less than £1.8M per annum
It consumes a maximum of 100,000 kWh of electricity per year
It consumes a maximum of 293,000 kWh of gas per year
If this describes your business and you think you've been overcharged, call your energy supplier and explain that because you're a microbusiness you can't be billed for energy used more than 12 months ago. They'll have no option but to amend the bill accordingly.
The bill is accurate and still too expensive
Admittedly, this is not an ideal place to be in but even here there are options. You do need to act quickly though because if debt to your energy supplier is unpaid within 30 days, you could be disconnected. Often, this incurs a disconnection fee that's added to any money you owe with yet another fee added if you are subsequently reconnected.
This is a place we want to avoid. As such, your first job must be to contact your supplier. No energy company wants to be responsible for a business going bust. If nothing else, it means they'll be out of pocket too, so make contact and see if they can provide a repayment plan that works with your budget. Most suppliers will.
If you can't get hold of your supplier or they demand the money upfront, Citizen's Advice might be able to help you resolve the problem by acting as an intermediary. The CA will need all the information regarding how much money you owe so have all bills and correspondence from your supplier ready before you call.
Should a bill land that you can afford this time but not if it's repeated in subsequent months or quarters, check to see if you can switch supplier. Making the process somewhat easier these days is the fact that energy suppliers can no longer lock businesses into automatic rollover contracts, meaning they also can't charge exit fees or include no-exit clauses in automatic rollovers.
Optimise your heating solutions with Tariff
Gas prices in particular are volatile at the best of times but at times like these, you need your heating system to be as efficient as possible.
Tariff's experienced teams carry out free heating systems audits and will recommend the solutions that are a best fit for your business, including information on costs, carbon savings, ROI, and any grants your business might qualify for.
Speak to us today and find out how you can:
Reduce your gas consumption: By upgrading your gas boiler and distribution system you will likely reduce your gas consumption. Any gas you do pay for and use will be more efficiently converted into heat.
Lower your gas bills: Inefficient heating systems can waste gas, but wasted gas still needs to be paid for. Upgrading your heating system optimises your gas usage and will help to lower your bills.
Heat specific areas: Different areas of your business will have different heating requirements. With a newer, zone-based heating system, you can control which areas are heated and to what level.
Decrease your carbon footprint: Improving the efficiency of your heating system can help to reduce your carbon footprint, directing heat to where it's needed whilst reducing the gas that's burnt. Reducing your carbon footprint provides powerful PR opportunities with which you can market your business as being 'green'. In these climate conscious times, this resonates with consumers, investors, and job-seekers.
Benefit from Green Incentives: With our renewable heating options such as Heat Pumps, Biomass boilers and CHP systems, you could be entitled to Government schemes. Most recently, this was the Renewable Heat Incentive (RHI), however the RHI closed to new applications at midnight at the end of 31st March 2022. The closure was to make way for its successor scheme, the Boiler Upgrade Scheme (BUS). The Department for Business, Energy, and Industrial Strategy have published the draft regulations for the BUS which can be found here.

At Tariff, we've made a firm commitment to helping businesses from all sectors adjust their energy usage habits. We have extensive experience in securing businesses the best possible deal on their gas and electricity, as well as preparing them for the looming 2050 deadline for net-zero emissions.
Whether you're uncertain of your business' future in energy, or you're ready to make the move to a cleaner and brighter future, get in touch with our knowledgeable team today to find out how Tariff can help your business begin its green journey.