As the Government's 2050 net-zero target looms large on the horizon, and there's an increasing focus worldwide on greener and cleaner energy sources, it's natural you'd be looking to change your business energy.
As a business owner, you're at the forefront of that movement towards green energy, and a more sustainable future for our planet. But taking that first step can be daunting, especially if you're new to the business world.
That's where Tariff can help. We'll guide you through every step of the route towards a green energy tariff, explaining exactly what you need to know about the switch and why now is the ideal time to make that leap.
Let's explore some of the key information you'll need to make an informed decision, and how this can help with plotting out the future of your business and its gas & electricity.
What Is Green Energy?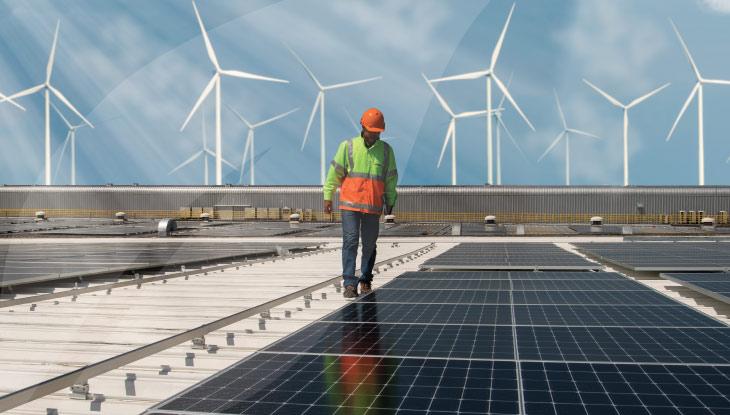 Before you commit to any green energy tariff, it's crucial you fully understand what it is you're committing to, and how it can revolutionise how you approach business electricity and gas.
We've done a full exploration of green energy, but in a nutshell, green energy is often used to refer to any form of power that's sourced through "green" or eco-friendly methods.  This includes solar power, wind turbines, geothermal energy, and certain forms of hydroelectric power.
These have minimal environmental impact, and don't release the greenhouse gases into the atmosphere. In fact, estimates from the International Renewable Energy Agency show that, over the course of 2020, green energy sources helped the UK avoid over 45 million tonnes of carbon emissions.
And, as renewable and green energy sources become more economically viable, that number is only going to increase. Green energy clearly represents the way forward for businesses, and with green tariffs becoming more and more commonplace, there's numerous options available.
What Is A Green Energy Tariff?
In simple terms, a green energy tariff allows businesses to buy energy that's sourced from renewable sources. These are becoming much more prevalent, with providers starting that switch over to more renewable sources, and gradually reducing their reliance upon fossil fuels.
There are a couple of different ways that energy providers can approach this. Some will only supply renewable energy, meaning you're guaranteed to be receiving your power from sources that are green.
Other providers will adopt a hybrid approach, where providers use a balance of green energy and fossil fuels to meet the demands of their customers.
This is done with what's known as Renewable Energy Guarantees of Origin (REGOs), which offer Ofgem certification that the energy is gained from renewable sources. However, this is where things become tricky for both consumers and businesses alike.
How Do Green Energy Tariffs Work?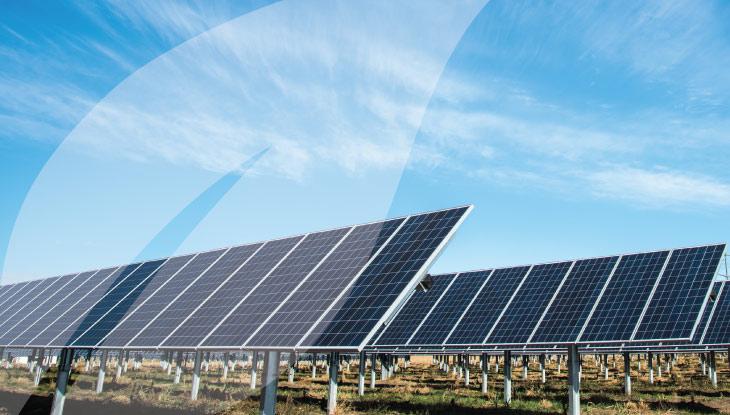 There's often misconceptions around green energy tariffs, and with this section, we'll aim to dispel those myths to provide an objective overview of this emerging form of business energy. This is crucial – it's estimated that 15% of the UK believe that renewable energy is distributed differently to non-renewable sources.
For clarity, a green energy tariff is distributed through the same channels as more conventional tariffs. Contrary to that popular belief, your business doesn't need to be connected any differently to take advantage of green energy sources.
However, this doesn't mean that adopting green energy doesn't make a difference – even though you're using the same National Grid as your neighbours, your supplier is obligated to match some or all of the energy you use with energy sourced from renewable processes.
The way this is done is using those REGOs we've just mentioned. This is Ofgem's system for ensuring that the energy a supplier provides is sourced through renewable methods. For every Mw/H of green energy that a business produces, they'll receive one REGO. More green energy produced means more REGOs.
This, unfortunately, is where things can get even more confusing.
While suppliers can use these REGOs to advertise their energy as 100% renewable or more environmentally-friendly, it doesn't necessarily mean they're fully "green", and can inadvertently contribute to misleading customers about green tariffs. Here's a brief explanation.
The companies that generate green energy are allowed to sell their green energy and REGOs separately. This allows an energy supplier to purchase these certificates to 'offset' the electricity they get from the wholesale market (some of which will be generated with fossil fuels) and legally call their energy '100%' renewable.
Plus, these REGOs are disproportionately cheap, costing between just £1 and £2 per customer for a year, although they're steadily increasing in price as renewables become more viable.
While all of this offers a dim view of the energy market, it doesn't outweigh the importance and prevalence of green energy, especially in a changing world.
Why Are Green Tariffs Important?
It's natural, given what you've just read about green energy tariffs, that you might be unsure about why it's important your business gets involved with them. However, with a huge global energy shift in the works, and a growing urgency to move away from non-renewable energy sources, there's a pressing need to adopt cleaner, greener energy.
Despite the issues with how green tariffs are labelled, supporting those 'true' green tariffs is important as it increases the proportion of renewable energy on the national grid, and helps to financially support green energy providers.
As it stands, global fossil fuel consumption is said to account for 84% of the world's energy consumption, which is simply an unsustainable rate, particularly as the climate changes and temperatures begin to rise across the globe.
As more and more businesses and consumers adopt green tariffs, this percentage will slowly decline, and we'll start to see a marked improvement in both our bills, and the planet as a whole.
Plus, increased investment in green energy sources means that the technology used to generate green energy (such as wind turbines, geothermal plants, and solar panelling) will be better researched, and ultimately more economically viable for larger and smaller energy providers alike.
The Benefits Of Switching To A Green Tariff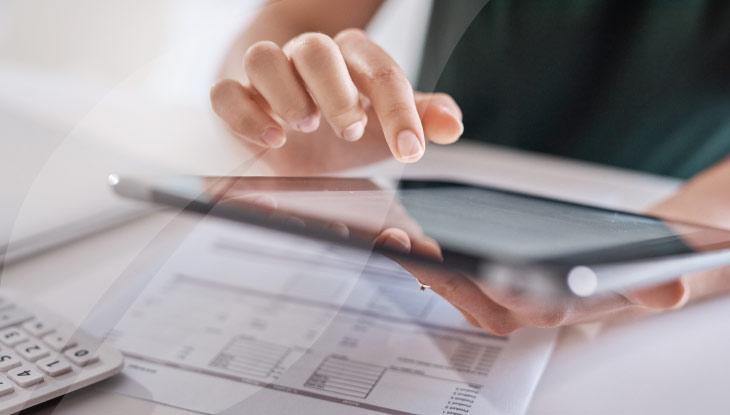 Of course, the economic viability of green energy is a huge plus point. It's multi-fold, too – it saves energy companies money, which can then be passed onto the consumer and businesses alike.
It's not the only reason to opt for greener energy, though. As a business, your electricity and gas are often an area of focus, and green tariffs represent an ideal option. Let's explore a few of the key benefits of adopting green energy early.
Prepare Your Business For The Future With Green Energy
If you've been browsing for the best deal on your business utilities, you're likely to have seen that the government has, in line with the rest of the world, set a target of net-zero by 2050. You might be less familiar with the reasoning behind why.
This resolution came from COP26 back in 2021, where over 190 nations all agreed to go "net-zero" by 2050. It's all in line with the global initiative to reduce emissions and avoid a climatological catastrophe, as well as mitigate against another global energy crisis.
By opting for a green energy tariff, you're essentially outlining your path towards that net-zero target, and are making conscious, informed steps towards better, cleaner energy for your business, your employees, and your future in industry.
Plus, by implementing green energy tariffs now, you'll have much less of an adjustment as and when you decide to make the leap over to net-zero. It's a daunting prospect, especially with so many businesses looking to do the same thing, but with professionals like us at Tariff, that process can be so much easier.
Help In A Global Effort To Protect The Planet
This is often the first thing most business owners think of when adopting a green energy tariff, and for good reason. As businesses begin to adopt these new green energy options, and reduce their reliance upon fossil fuels, the environmental benefits are innumerable.
The research supports this, too. The Guardian conservatively estimates that, by keeping the current stores of fossil fuel in the ground (rather than excavating it for us), we'll be able to stop global temperatures rising above 1.5°C.
The UN's Agenda for Sustainable Development issues a similar rallying cry, calling on world governments and industries to rein in their dependency on fossil fuels in order to avert the impending temperature rises, environmental impact and surging ocean levels.
By adopting a greener energy tariff, and choosing to prioritise the planet, you're supporting the planet-wide initiative to move towards greener, cleaner energy, and a brighter future for the world.
Your Energy Bills Will Only Get Cheaper
This is a huge one, and a reason that's often overlooked when businesses consider their energy options.
As more research, funding and focus is placed upon green energy forms, they'll only become more affordable. The inverse is true of fossil fuels – while the technology to unearth these fuels is cheap enough, the fuels themselves are becoming more scarce, and therefore more expensive.
It also makes sense that, as technology advances and becomes more efficient, they'll be able to generate greater amounts of power. As a baseline, Statista found that the UK's solar panels produce a massive 13,695 megawatts of electricity, or around 3.9% of the UK's total renewable energy production.
This is only set to increase, and with better technology being worked on constantly, green energy will quickly become more affordable, with that cost reduction meaning cheaper bills for you and your business.
Attract More Eco-Conscious Customers
As businesses adopt greener energy, and seek to make more eco-conscious decisions on the decisions they make, it's only natural that consumers and clients would be looking to do the same with where they buy from.
By choosing a green energy tariff, and taking those first few steps towards net-zero, you'll be able to bring in customers who are looking to make more informed decisions on who they shop with.
Recent studies show that 12% of customers are even willing to pay more for a business that forefronts their green policies, and that number is only set to increase, with the same research showing that over 80% of people have become much more eco-conscious post-pandemic.
Not only that, by featuring your green energy initiatives as part of your portfolio in a business-to-business environment, you're more likely to build strong industry relationships, and foster lasting partnerships.
How Can My Business Reap The Benefits Of A Green Tariff?
Now that we've explored what your business can gain through opting for green energy, it's time to take that step forward, and start taking advantage of those gains. This is the spot where many businesses get bogged down, unsure of how to make what feels like a substantial leap.
However, with a dedicated switching service like Tariff, that venture becomes much more manageable. Let's look at that process in more detail.
It All Starts With An Energy Analysis
With our bespoke business energy switching service, we'll first begin by analysing your energy needs. We believe that, by looking in depth at the energy you use and where you expend it, you're able to decide on what's right for you, and work with us to choose a green energy tariff that matches your business' needs.
This involves taking key metrics that include:
Your business' electricity and gas usage
Water supply and any treatments
Fuel used in your company vehicles, as well as for employee travel
Waste disposal and recycling schemes
We'll then draw up plans to help reduce those numbers, and guide you with every step of the way towards lowering your business' dependency on fossil fuels. We'll do this this through an innovative, state-of-the-art system known as Ipsum.
This not only shows the data that you use in an easily digested format, but it can actually pinpoint in real time where and when energy is being used in your business, which gives both you and us the opportunity to reduce your energy expenditure.
We'll Then Compare Green Energy Tariffs For You
Part of the reason many business owners are so reluctant to put any energy switching into motion is the time and energy it can consume. We understand the demands of running a business, and we'll work tirelessly to provide you with the best possible deal for your energy, so you can focus on your business and your customers.
This involves sourcing the right provider for your business, comparing what they can offer you, and shortlisting the best options, before discussing each of these options with you. We'll only source these deals from registered, established energy providers, and our partners include SEE, British Gas, EDF and Scottish Power.
This step is crucial. We believe in providing a totally transparent service, cooperating with you along every step of the way towards the right green energy solution for your business.
We'll Then Onboard You With Your New Provider
Once you've found the right provider for you and your business' energy needs, we'll do all the legwork in getting you onboarded. This includes all of the necessary paperwork, any meetings or discussions, and even kicking off the switching process.
Again, this is all part of our bespoke service. We know how little time you have alongside running your business, which is why we seek to make it as simple and effective as possible. All you'll need to do is take your final meter reading, and pay your final bill, and the rest will be done for you.

At Tariff, we've made a firm commitment to helping businesses of all sizes and industries go net-zero ahead of the Government's 2050 target. As one of the UK's leading energy switch providers, we're in the ideal position to prepare your business for the future.
Whether you're uncertain of how net-zero policies will impact your business, or you're seeking a more affordable solution for your business' green energy needs, we'll provide a bespoke package that covers everything from finding the right provider, to organising all the paperwork, to finalising that switch over.
Get in touch today to find out more about how Tariff can help your business begin its green journey.